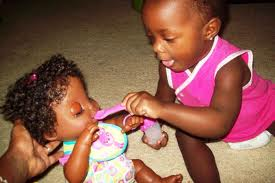 Here are some of my favorite activities to play with young toddlers (approximately 15-24 months). Not only are they developmentally stimulating, they're also fun!
1.Laundry Baskets– They always say it's the most unexpected items that are the most fun for this age! Put your child in the laundry basket and push or pull them around the apartment. Let your child fill up the basket with stuffed animals or toys and take a turn pushing or pulling. This is also a great game to play with a friend!!
2. Dump and Fill– They don't call this the "dump and fill stage" for nothing. Any pocketbook, bucket, pretend doctor's kit, or even that small container mini M&Ms come in will be a favorite for your child during this time. They love to fill containers up with their favorite items and carry them along. And of course, the feeling of dumping the items on the floor and hearing the crashing sounds is incredibly enticing and exciting!
3.Bathtub Messy Play– What a wonderful contained space for messy play! Put your child and their friends in the bathtub with anything messy and contain that mess! For young toddlers I recommend mixing vanilla pudding with food coloring and letting them "paint." A friend recently tried this with whipped cream and it was a huge success. As your child becomes better able to resist putting things in his or her mouth, the bathtub is a great place to introduce real paint.
4. Contact Paper Art– Contact paper is that clear sticky material that can be used to cover books or line shelves, but it is also fantastic for toddler art. No messy glue needed. Simply cut off a long piece, peel the protective backing off and tape it sticky-side-up on the floor, a table, or even the wall. Give your child feathers, paper scraps, foam shapes and watch their creativity emerge! You can add construction paper to the back and hang it on the wall. Or, fold it over and use it as a placemat. This activity is fun for at-home birthday parties, long car rides, and tends to be exciting even for older toddlers and 3s!
5.Pillow and Cushion Obstacle Course– Lay your couch cushions, bed pillows and bunched up blankets on the floor and model for your child how to crawl or walk across them. You can end the course with a large pile of pillows for you child to jump and crash into. If you have a tunnel, add it. This is a great physical activity for any day but particularly for rainy days when you've been cooped up!
Enjoy! Enjoy! Enjoy! This is a great age!
(Note: Please be aware of your child's developmental capabilities and modify these games as needed. Have fun!)