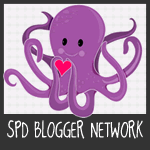 I recently came across an incredibly supportive group for parents of children with sensory processing disorder. On the website, The SPD Blogger Network explains its purpose:
"This group blog is designed for those writting – or those who want to write – about raising a child with Sensory Processing Disorder or sensory issues (that often are comorbid to other diagnoses like Autism, Aspergers, PDD-NOS, Bipolar, ADHD, ADD, Cerebral Palsy, OCD, NVLD, CAPD, Apraxia of Speech, Dyslexia, Dysgraphia, Anxiety, Gifted and many others). This is a place to share stories. All of our stories. Share your potty training nightmares, sleeping challenges, new friends, occupational therapy success, picky picky eating (or none at all), social skills challenges, meltdowns at the grocery store, first words (even if your child is 3!), sensory diet victories and the every day chaos (and joy) that is raising a child with Sensory Processing Disorder. Here is a place for you to write it all down. Join us!"
After reading many of the inspiring and helpful posts I contacted the founder, Hartley Steiner, to find out more about the origins of the site. Hartley has an incredible story that is worth reading. The site also gives you the option of signing up for their monthly newsletter, for which I recently wrote an article. Children with sensory processing disorder (and related issues) frequently have social challenges as well. My article discusses the top 3 social skills (and activities to support them) children should work on before entering mainstream kindergarten. As I was writing, I noted that these were skills I hoped all children would have by the time they were beginning kindergarten. So whether you are the parent of a child with special needs or a typically developing child, take a look. To read the article go to www.spdbloggernetwork.com and sign up for their newsletter.