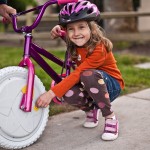 Every now and again I come across a product that I believe is revolutionary. Gyrowheel is that product. As a "failed" bike rider myself (I can go a couple of feet now, but it's not good), I have always wondered how to make this an easier process for children. That's exactly what Gyrowheel does. Gyrowheel is a front wheel that can be put on any 12 or 16 inch children's bikes. When the power is on, Gyrowheel helps keep a rider upright and more stable, particularly at a low speed. The child learns correct riding technique, how to balance a bike, and will have a safer, easier and faster learning experience. Certainly, Gyrowheel looks "cooler" than training wheels which can be a factor for older children learning to ride, but it also more closely replicates the feeling of riding a regular bicycle, rather than the tricycle feel created with training wheels. Training wheels can make turning dangerous and also teach children skills they actually have to unlearn for a regular bike. Gyrowheel may also be helpful for some children with special needs.
Often, I explain to parents that when a child (or adult, for that matter) does something successfully and feels the pride of accomplishment, he or she will want to do it again. That is exactly what happens the first time a child gets on a bike with a Gyrowheel. You've got to take a look at the video! And if you don't believe the company's video, search it on YouTube and prepare to be wowed. First time riders are off and riding, feeling confident and learning proper bike riding skills right from the start. Gyrowheel has three stability levels that can be reduced as the child's skills improve. When Gyrowheel is turned off, it works like any other bicycle wheel.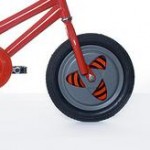 I've recently seen many children with balance bikes and these can be a great precursor to a bike with Gyrowheel, particularly because children can use a balance bike at a younger age. Once the child is ready for a 12 inch bike, I highly recommend ordering a Gyrowheel. Most adults can picture a child as they wobble trying to hold a new bike up, learn to pedal and balance, all at once. Because Gyrowheel works at a low speed, the child has help at this stage of the game. The company also makes a complete 16 inch kids' Gyrobike, a full bike that comes equipped with a Gyrowheel. Like I said, the product is revolutionary. I wonder when they'll make one for grown-ups….
You can find more information on the products, availability, and online ordering at www.thegyrobike.com. And for a limited time, use the code DANASKIDS at check out to receive 10% off.