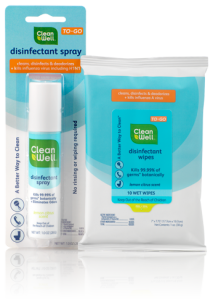 You'll be armed for cold and flu season this year with CleanWell Disinfectants To-Go.
Your kids touch thousands of places in the course of ONE DAY, that means you need CleanWell in your bag!  Whether it's cleaning up toys after a play date with a pal who has a runny nose or wiping down the high chair or table at your favorite place to grab a bite, you're covered.  CleanWell Disinfectant Sprays and Wipes kill 99.99% of germs*; cleans, disinfects, & deodorizes (kills the influenza A virus too). At CleanWell careful consideration goes into everything we do.  We'd love for you to read the back of the label of the disinfectant you use today and then read our label.  We think you'll see why CleanWell is the better way to clean!
Find CleanWell at a store near you or on our website and like us on facebook and twitter for great ideas, contests and promotions!   Can't wait to get to a store?  Use code CWECQ4 at checkout on our website for 20% off thru December 31st!  Stock up now, the deal won't last!
A Note from Dana:  The products I include on my website are ones I feel strongly about.  I use Cleanwell products in my classroom, on the toys I use during sessions with clients, and on my hands before I begin any work with children and families.  I believe in the work they do and the products they offer.  I hope you'll give them a try.