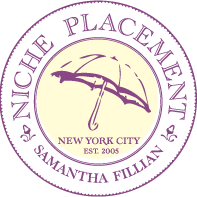 When I first started Niche Placement, I would get calls from very flustered clients said things like, "Megan did not pack Ella her gym clothes for Friday and she had to miss gym!" or " I was looking at my Nanny's Facebook page and her status said 'I had a looooooong day at work!" Calls like that were difficult to deal with, and I did not understand why they happened so often. Then I realized, nobody has an HR department in their living room. Having someone work in your home and care for your kids is an intimate relationship; so maintaining professional boundaries and communicating clearly is no easy task. Not easy but not impossible. I recommend following the same advice I give the families and nannies I work with.
If you are a working mom, or are out of the house often, figure out what level of communication you want with your nanny throughout the day. Do you want a few texts or emails to let you know how the kids are doing? Would you like a text when your nanny picks your kids up from school to know how their day went? Whatever communication you would like on a daily basis, make that clear to your nanny from the beginning. To discuss larger issues or long -term goals, I recommend having a 'check in' every few months with your nanny. Have this 'check in' in a neutral place like a coffee shop.
When you have the 'check in' it is important to use open, non-accusatory language. Tell your nanny what things they are doing well and what you appreciate about them before you tell them what you would like them to change. For example, saying something like "Riley's reading has gotten so much better, thank you for doing reading hour with her. It would be great if we could also work on her organizational skills." This language will be heard and put into action much more than something like, " I have asked you many times to make sure Riley cleans her room and puts her books away. Why haven't you done this?!"
Giving your nanny an opportunity to discuss her thoughts is essential. You may find out that your date -night Thursday gets your nanny home at a time where she feels unsafe to take public transportation and she needs to take a cab. Your nanny also has an inside look behind the playroom door and she will be able to tell you which play dates are not ideal for your kids.
If you are a stay at home mom and will be hiring a nanny, keep this in mind: you will be spending most of your days with the nanny. Sharing that kind of physical and emotional space can strain any relationship; so take the time to think about what you want that relationship to be like. Do you want the nanny's presence to be big or small when you are around? When do you want her to step in or step out?
The most useful skill for a stay at home mom who is hiring a nanny is to be self-aware. Knowing yourself well enough to say something like 'Working for me might be tough because I can micro manage when it comes to the baby's sleeping and feeding schedule," is a great asset to building communication with your nanny. If you are not sure what would make you a difficult employer at times, ask your best friend to tell you.
Now that I have discussed how to communicate with your nanny, let's go over the things you should NOT be talking about with your nanny. Even though most parents grow to love their nannies and treat them like part of the family, you must have professional boundaries. You can care about your nanny's well being without prying into their personal life, romantic relationships or how they spend their free time. Don't 'friend' your nanny on social networking sites, because after all, you are not their friend. With that in mind, do not discuss your own personal, marital or romantic life with your nanny. If you are not sure where the line is, ask yourself "Would I want to hear about this from my boss?"
Best of luck communicating with your nanny! In part three I will discuss how to create an easy, straightforward contract with your nanny.
To find out more about Niche Placement:
202.642.4392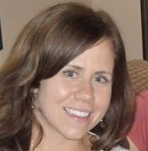 Niche Placement is a New York based childcare placement agency that focuses on families with children with special needs. We believe that unique family situations require uniquely qualified nannies. Samantha Fillian Younes worked as a nanny in New York City for over eight years, spending the majority of those years caring for a child with profound hearing loss. Through her experience, she saw the need for a highest quality, personalized agency that finds exceptional nannies for exceptional families.
Samantha has spent over 15 years working as a children's caregiver and educator. Upon receiving her B.A. and M.F.A., she worked as a Montessori School Teacher, then transitioned into a professional nannying career. Her years of experience and knowledge in nannying, guide her in choosing and supporting the highly qualified nannies she places. Samantha is especially passionate about the education and therapy of children with special needs, and advocates for low-income families with children who need extra care and support. She lives in Brooklyn with her husband and enjoys practicing yoga and traveling in her free time.