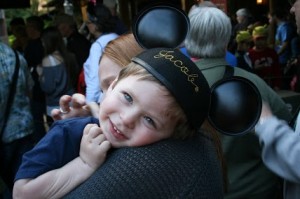 Parenting strategies for successful family outings.
I sit here Monday evening, after a weekend at Walt Disney World, equally happy and exhausted to tears. There's a wide variety of families, children, and ages that visit Disney each year. Most people have a "plan of attack" that works for their brood. Below find the tips I compiled from 2 days at the parks (Magic Kingdom and Animal Kingdom). I hope they'll help you enjoy your time as much as I did!
Disney Tip #1: Dress in layers! It's cold this morning but supposed to be 70 degrees today. We'll peel as we go.
Disney Tip #2: If you go to the character breakfast (Chef Mickey's was great), bring some resealable bags to fill with snacks for the rest of the day. AND…they have togo cups!
Disney Tip #3: Two words…fast pass. It might take some planning about what rides to go on when, but fast pass is worth it. Besides, we're with kids, we're used to planning ahead!
Disney Tip #4: If you need something, ask for it. Disney prides itself on customer service. They'll generally try to accommodate you.
Disney Tip #5: Give yourself (and your kids) at least a few hours to recoup after your trip. Disney is exciting and exhausting!
Have more tips to share? Please leave a comment below. And enjoy your trip!