Play, Sing, Move & Listen
4 Ways to Help Your Child Grow & Develop Through Music
Most children respond naturally to music – calming to a lullaby, dancing to a Laurie Berkner video, or making up songs about every day happenings. Music is a multi-sensory experience – processed through more than one sense – that lends itself easily to encouraging your child's growth and development. Exploring music can help your child learn self-awareness, connect with others, develop motor skills, be able to organize and modulate their body and emotions, feel creative and expressive – and so much more!
Even if you don't consider yourself musical (or only sing in the shower), sharing musical experiences with your child is a great way to connect, and to model for them that you don't have to be perfect at something – the joy is in the doing.
Here are 4 ways to connect with your child through music:
1. Play. Children learn through play, through open-ended exploration of what's around them. Play is also valuable for adults to relieve stress and encourage creativity – a win-win! Depending on your child's age you could: explore new instruments together, create improvised songs, make up music for different moods or days, or trade rhythmic phrases back and forth. Try not to let the experience be about right or wrong, but rather about connecting playfully and honoring your child's ideas (they just may surprise you!).
2. Sing. From an early age, many children learn to calm themselves to the sound of their parent's voice. Don't stop singing! Singing is a great way to introduce transitions, help with language development, and encourage relaxation and body awareness. Try rewriting the words to familiar songs ("The Ants Go Marching" is a great one), singing long, low tones with deep breathing to calm down active bodies (much like the "Om" in a yoga class), or singing a song in the voice of a favorite story character.
3. Move. Music can be organizing, energizing, and just plain fun to dance to! You can play freeze dance, put on unfamiliar music and explore how to move to it, or stomp around while playing a drum. Allow for variations in speed and volume of the music – it will help your child practice adjusting their bodies and reactions to unfamiliar situations, in a safe and playful way.
4. Listen. Music can be a wonderful receptive experience, and it's never too early to cultivate the ability to listen. Explore listening to music of other cultures with your child, see if they can listen to their breath or a very quiet instrument, or play "I Hear with my Little Ear" (an auditory version of "I Spy"). Listening carefully also allows a child to develop an in the moment awareness of what's around them.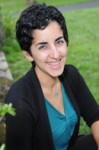 By Maya Benattar, MA, MT-BC, LCAT. Maya is a board-certified and licensed music therapist in private practice in NYC and Westchester, working with children of all ages and needs and their families. Her holistic, child-centered approach utilizes individualized music-based interventions to address social, emotional, and developmental needs. Maya offers individual and family sessions, "Musical Play" Parent Coaching, and blogs about music for child development. For more information, visit Maya's website, follow her on Twitter or like her on Facebook.